Learn More about Identity Verification by Zenoo
Why do I need to verify my identity?
Identity Verification by Zenoo helps to ensure the identity of a person is verified. It enables our users to know that the person you are dealing through our platform with is the person they are saying they are online.
How will I know that someone is verified?
Once a user's identity has been verified through Zenoo, a green badge will appear next to their name throughout the site. 

Here are two examples: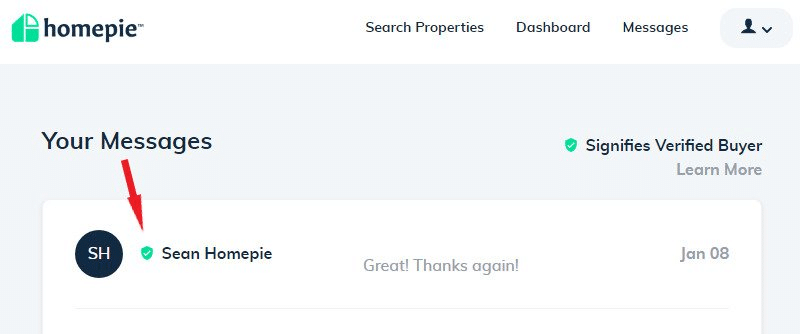 Is identity verification a background check?
No. Identity verification is a simple verification to ensure that the person in the photo matches the identification scanned. It should not be construed as a background check or endorsement of the individual in any way. It is simply an added layer of identification to help filter out fake users.
How does the identity verification process work?
Homepie utilizes an independent identity verification service through Zenoo. Zenoo will ask you to provide a government identification (e.g., your driver's license) to compare it with a live selfie photo taken by you during the process.
Zenoo validates the identification card you provide against a pixel level set of data confirming that the identification card is not fake. Then, a selfie is taken of you to make sure you are taking a real photo in real time. Finally, using facial recognition technology, Zenoo compares the selfie photo to the photo on the identification card to validate your identity.
Who will have access to my identification documents?
Homepie does not have access to the information you provide to Zenoo. Homepie is only informed if you have passed or failed the identification process along with a randomly generated identification number associated with your account and your name as listed on your government id so we match it to your username in the Homepie system.
How do I initiate the identity verification process?
To verify your identity, go to any listing. Press Get Verified and follow the prompts. You can also click here to be taken directly to the verification feature.
How long will my verification documents be stored?
Zenoo does not store your identification information or your selfie after the verification is complete. For information on Zenoo's privacy practices please click here https://zenoo.com/privacy/